Are you discouraged in prayer?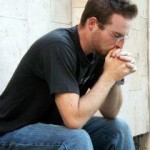 Missionary to the Lisu People

In the early 1900′s James Fraser left London for inland China to bring the good news of Jesus to the Lisu people, who lived between southwest China and Burma.
He labored in prayer for God to save them.  He went village to village telling them about Jesus.
But after a few years there was little response — and he was discouraged.
But he kept devoting himself to prayer — and to telling people about Jesus.
And then — one by one — Lisu men and women started responding to the good news.  The one by one became two by two — then three by three — and even more.
At the end of 10 years — 60,000 Lisu people had come to know Jesus and been baptized.
How did this happen?
Along with sharing the Gospel — he says this happened through prayer –
Paul may plant and Apollos water, but it is God Who gives the increase; and this increase can be brought down from heaven by believing prayer …

I believe it will only be known on the Last Day how much has been accomplished in missionary work by the prayers of earnest believers …

Solid, lasting missionary work is done on our knees.

(From "Behind the Ranges: Fraser of Lisuland," by Mrs. Howard Taylor, p.47.)