Let God hold your hand!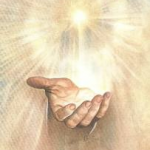 One of the joys of being with kids is holding their hands. We do it to keep them safe while crossing the street, or to keep them from getting lost in a crowd. And whenever they stumble and lose their footing, we grab their little hands tighter to keep them from falling. That's what God does for you. There are stones and cracks that may try to trip you up on the sidewalks of life and rob you of the great destiny that God has planned for you, so He holds your hand to keep you from being destroyed.  That's why it's easy to identify with the psalmist, who said, "My steps had nearly slipped", I had nearly lost my foothold. (Psalm. 73:2).
We all face a variety of issues that threaten to make us stumble. We all face issues that make us wonder just what in the world is going on and why can't we get things to work right? If you find yourself constantly having to go through it, after a while you might even wonder if a root worker has put some God forsaken curse on you that you just can't get off of you no matter how hard you try.  For the psalmist Asaph, seeing the prosperity of the wicked caused him to question the goodness of God.  But God squeezed his hand and reassured him that, given the judgment of God, the wicked do not really prosper, they really do not. True prosperity, the psalmist discovered, was found in the fact that God was always with him, always rooting for Him and always wanting Him to make the best choices given the circumstances he found himself in.  In Psalm 73:23 the psalmist said to God, "You hold me by my right hand".  And just for good measure, God reminded him that He would also guide him through life and ultimately welcome him home to Heaven when it was his time to go- Psalm 73:24
Everything that happens to you is not always of the devil, sometimes things happens the way that they do, because God is holding your hand. So, next time you stumble, remember that the powerful hand of God is holding your hand and walking you through life—all the way home! You may not understand what is happening to you in your todays and you may even be uncertain about your tomorrows, but we encourage you to never be afraid to trust your unknown present and your unknown future to a known God! He is holding your hand and He will guide you safely in the way that you should go, each and every day when you seek Him first! We encourage you to spend time with God daily through prayer and the reading of His word, get in a good Bible based church and continue to allow God to hold your hand so that you will be able to get closer each day to the destiny  that God has planned just for you!
Let God do the holding and you do the trusting. He won't fail you!
-J. S.