Worry less – Trust God more!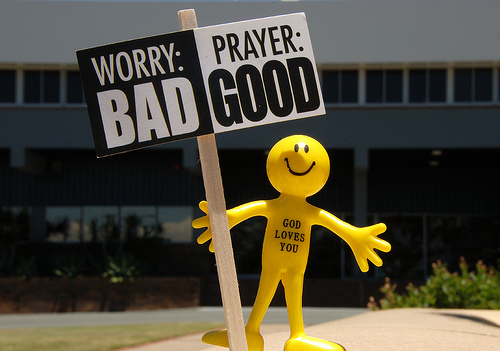 Are you concerned about what the future may hold for you to the point that it is trying to steal your joy? If so, God doesn't want you to worry. When you worry, it takes control of your thoughts and your thoughts produce actions and your actions results in consequences of some sort. Instead of worrying, God wants you to keep your focus and your mind on Him. Isaiah 26:3 states if you will keep your mind stayed on God, then He will keep you and your mind in perfect peace. Jesus also said in Matthew 6:25, "do not worry about your life, what you will eat or drink or about your body, and what you will wear", have faith in God and wait. -Jesus knows that having faith in God and trusting Him for what you need when you need it is the best thing that you can do to get right results.  That may seem simple enough, but we know just like you may have found out that not worrying and focusing on God for perfect peace is easier said than done. We've found that waiting on God can be lengthy sometimes, so in an effort to help Him along, when things don't happen as quickly as we would like, in the past we thought maybe we had to run our own lives and make things happen. We thought If something wasn't going right we thought we had to fix it.
There's nothing more frustrating than trying to make something happen that is never meant to happen or trying to make something happen and it ends up more of a mess than before you started trying to fix it. Has that ever happened to you? Have you got tired of waiting on God and worry took over and you began trying to "fix" some things yourself because you may have been tired of them? How did that work out for you? If you're anything like us, you found that in most cases it did not work. So since we've figured that out, instead of trying to "fix" God sized problems, or problems that have resisted human solutions, we pray, then we wait on God. We pray, then we wait on God. We pray, then we wait on God. Are you beginning to get the picture? Although no 1 likes to wait and although your wait times may be long, we've found we're better off to pray and wait on God and to seek God to help us deal with any worry that may try to keep "cropping up" than trying to "fix" stuff ourselves!
We've heard it said that if you try to teach a pig to sing, it will frustrate you and irritate the pig. If that pig is meant to sing God will lead him to sing without your help. (Did you get that clue?) So, sometimes, we are to just take our hands off of things and let God take care of them. Let Him do what only He can do and then let's try our best to not worry about the outcomes. Believe that God does have your best interest in mind for He has a wonderful plan for you-Jeremiah 29:11. So instead of worrying, we'd like to encourage you to tune into God everyday, listen to the whispers He's sending you everyday. Enjoy each day that God gives you. Bask in the wonderful thought of knowing that God loves you and He has a perfect plan and purpose for your life!  If you still can't hear God's whispers and if you need help to deal with your worries and if you need help to hear God whispers, Be still and know He is God, "Simply ask Him again to help you learn to deal with your worries and help you hear His whispers". We're sure it's a prayer request He will delight in answering just for you! ~So don't worry, be happy!
_______, About, Action, actions, Again, along, also, Answer, Answering, Anything, Because, been, Before, Begin, Beginning, Believe, Best, best thing, Better, Body, Bottom, But , can, care, Case, cases, Cause, Come, comes, concern, concerned, consequences, control, Courage, Day, Deal, delight, Doesn't, Don, Don't, Done, Drink, Each, Earn, Easier, effort, Egan, encourage, end, Ending, ends, Enjoy, Enough, Ever, Every, Everyday, fait, faith, Faith In God, family, Figure, Focus, Focusing, Fort, found, Future, Gain, Give, gives, god, God Love, going, Got, hand, Hands, Happen, happened, Happy, have, Having, he's, Hear, Help, Here, Here's, Him., Hold, Human, human solutions, in, Into, Isaiah, It's, Jeremiah, jesus, joy, just, Keep, Know, Knowing, knows, Large, lead, Learn, Let God, Let's, life, Light, Like, list, Listen, Live, Lives, Long, love, Loves, man, Matthew, Mean, Meant, mess, Mind, More, Most, N., Need, Never, Nothing, OK, once, Only, Ourselves, out, outcome, over, past, peace, Perfect, perfect peace, perfect plan, picture, Plan, point, pose, Pray, prayer, problem, Problems, Purpose, Quick, quickly, Rage, Rating, request, rest, RESULT, Results, right, ring, Said, Seek, Seek God, seem, Self, Selves, Send, sending, Simple, sin, Sing, Sis, Size, So, Solution, Solutions, Some, Something, Sometimes, STAR, Start, state, states, Stay, Stayed, Steal, Still, Sting, stuff, Style, Sure, take, takes, Tate, Teach, Than, the, Them, There, there's, Thin, thing, Things, Thou, though, thought, Thoughts, Time, Times, tired, to, took, Trust, trusting, Trying, tune, US, Using, Very, wait, Waiting, waiting on God, Want, Wants, We've, wear, whisper, without, Wonder, Wonderful, Work, worries, Worry, Would, ye, yo, you., You're, your mind, Yours, Yourself