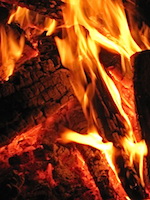 ---
The three friends had every reason to doubt God. Though they had been faithful to him, they had been taken as slaves to a foreign country. Their homeland had been destroyed. The history of their nation seemed to be coming to an end.
And now… now they were about to die. Or so it seemed. The king of the country where they found themselves had ordered them burned alive.
This king, a man named Nebuchadnezzar, had built a great statue honoring his favorite person: himself! It was a huge statue, 90 feet high and 9 feet wide. The king gave the order that whenever the royal music was played, everyone was to fall down and worship this idol.
These three friends, named Shadrach, Meshach, and Abednego, refused to bow down to this statue. So the king had them arrested, threatening to burn them alive in a huge furnace. But wanting to show himself to be a gracious king, he offered them one more chance to worship his image.
That's when the three friends showed what kind of faith they had:
Shadrach, Meshach, and Abednego answered and said to the king, "O Nebuchadnezzar, we have no need to answer you in this matter. If this be so, our God whom we serve is able to deliver us from the burning fiery furnace, and he will deliver us out of your hand, O king. But if not, be it known to you, O king, that we will not serve your gods or worship the golden image that you have set up" (Daniel 3:16-18).
They assured the king that they would not worship his idol. They also told him quite clearly that their God was able to rescue them and that they thought he would do just that. But they also make it clear that their faith is in God even if he chooses not to rescue them.
Far too often, we want to believe in God as long as he will do what we want when we want. Just save Grandpa, and I'll believe. Just get me out of this mess, and I'll believe.
We need an "even if" faith. We need the kind of faith that says, "Lord, I'll believe in you even if you don't do what I hope. I'll believe in you even if you don't answer this prayer the way I want. I'll believe in you no matter what."
There's a passage at the end of the book of Habakkuk that says:
Though the fig tree does not bud and there are no grapes on the vines, though the olive crop fails and the fields produce no food, though there are no sheep in the pen and no cattle in the stalls, yet I will rejoice in the LORD, I will be joyful in God my Savior (Habakkuk 3:17-18).
We don't need a faith that comes and goes according to our circumstances. We need an "even if" faith, that follows God no matter what.