Want the Extraordinary?Seek God!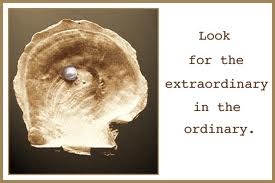 Has everyday living become boring to you? Is the thrill of living and the excitement of following God left you? Are you having more downs in life than up? Are you having more pain in life than pleasure? Has the constant humdrum of living zapped your life and the passion out of you because of overwork and not enough time to get everything done? With only 1 1/2 more months in this year left, we encourage you to get serious about finishing this year strong with God by seeking Him for an outpouring of His extraordinary blessings for and in your life!  It has often been said if you want something you have never had, you must do what you have never done. If you want what you've never experienced, you've got to be willing to take risks and go where you've never gone before. It has also often been said that success leaves clues. 
Because you matter to God, He is constantly giving you clues on which way to go, what to do, and what to avoid. Child of God, because you matter to God. He wants His highest and best for your life. He wants you to experience the abundant life that Jesus Christ proclaimed when He said in John 10:10 "I have come so that you could have life, and have that life more abundantly". Included in your abundant life package that can lead you to the extraordinary that Jesus was speaking of in "John 10:10" are not always things or stuff. The things of this world can bring you temporary joy, temporary peace, or temporary comfort, but the truth of the matter is that at the end of the day it's all temporary and subject to change. When you invite Jesus Christ in your life and you accept Him as your personal Lord and Savior, He begins to work to bring true joy, consistent peace, and His ever present comfort and His freedom which is everlasting in your life. Jesus begins to work to change your life from the ordinary to the extraordinary. As an added bonus to your abundant life package, God freely gives you His Grace in and through your hard and tough situations and God's Grace never fails. When nothing else works, God has said "His Grace will be sufficient for you in and through all of your trials and tribulations, for His Grace is made perfect in your weakness- 2 Corinthians 12:9
God's joy, peace and comfort may not feel strong or present sometimes in YOUR current moments, but these are the things that will endure through any and all kinds of weather. These are the things that when properly in place will lead you to the extraordinary life that God wants to lead you to. These things are worth more than silver or Gold because when given, they are given to you by God through His son Jesus Christ!
So many people will never experience the extraordinary life because they are enslaved by the world's system now a days, and they are having to work lots of hours or work  2 and 3 jobs just to make ends meet or they are having to work in a business or ministry that completely drains them of finances, time and energy, this is not what God wants. We do, unfortunately, need money in order to get through this world, but God doesn't want money to have us, He has a better way. He wants you to seek Him for His better ways, so won't you spend time before God this weekend to seek Him for the extraordinary to manifest in your life? Get alone with God. Get serious about finishing strong this year. Firmly decide that now is the time for you to get serious about experiencing God's extraordinary in your life. If you will pray for the extraordinary in your life, God will work to help you create the extraordinary in your life! Are you ready for the extraordinary to begin showing up in Your life? God is ready if you are!

Want to seek God for the extraordinary in your life for the rest of this year? If so, join us in this simple prayer;
Father God,
Genesis 22:14 states that you are Jehovah-Jireh, The Lord who provides, so I am seeking you for the provision that I need to create the extraordinary in my life during the next months of this year. I'm done playing games and seeking after "stuff that doesn't work, things that don't satisfy and folks that lead nowhere", I invite you Lord to guide me. I invite you to help me. I invite Jesus Christ to come into my life to become my personal Lord and Savior. Please Lord, come into my circumstances and show me the way to go. Shine your light so that I can see the strategies that I need to implement to emerge victorious this year!  I promise to journal your responses http://280daily.com/ and follow your leads to the best of my ability and when I do not,  please gently remind me Father, so that I may stay on course with you to finish my year strong so that it will be for my good and for your Glory, in Jesus name I ask and pray – Amen
http://peacewithgod.jesus.net/
_______, ability, About, abundant life package, Accept, After, alone, also, Always, AMEN, Avoid, Because, Become, been, Before, Begin, Begins, Best, Better, better way, better ways, Bless, Blessing, blessings, Bonus, boring, Bring, Business, But , can, Cause, Chan, Change, Child, Chris, christ, Circumstances, claim, Claimed, clues, Come, comfort, Complete, Consistent, constant humdrum, Corinthians, Could, Courage, Course, Create, Daily, Day, Days, Decide, Doesn't, Don, Don't, Done, Down, drain, during, Ease, Else, encourage, end, ends, Endure, Energy, Enough, Enslaved, Ever, Every, Everyday, everyday living, Everything, Excitement, Experience, Experienced, experiencing, Extra, Extraordinary, extraordinary blessings, extraordinary life, fail, Fails, family, Father, Father God, feel, Finance, finances, firm, Firmly, Follow, following, Fort, FREE, Freed, Freedom, from, game, Games, Genesis, Give, Given, gives, giving, glory, god, Gold, gone, Good, Got, Grace, Guide, Happy, hard, have, Having, Help, Here, High, Highest, Hour, Hours, HR, http://280daily.com/, http://peacewithgod.jesus.net/, Implement, in, in Jesus, include, Into, Invite, It's, Item, jesus, jesus-christ, job, jobs, john, Join, Journal, joy, just, kind, Kinds, king, lace, Large, last, Lasting, Laying, lead, leads, Leave, Leaves, Left, Less, life, Light, living, Lone, Lord, lots, Made, man, Manifest, Many, matter, Meet, Mind, Mini, Ministry, moment, moments, Money, Month, months, More, Must, Name, Need, Never, Next, Nothing, Often, Only, order, Ordinary, out, over, overwork, Package, pain, Pass, Passion, peace, PEO, people, Perfect, Person, Persona, Personal, personal Lord, Place, Play, Playing, plea, pleas, Please, Please Lord, pleasure, pour, Pray, prayer, Present, prom, promise, Proper, Provide, provides, R., Race, Rage, Rain, Rains, Read, READY, remind, response, Responses, rest, ring, risk, rut, Ruth, Said, savior, Seek, Seek God, Seeking, Sent, Serious, Shine, Show, showing, silver, Simple, simple prayer, sin, Sing, Sings, Sis, situation, situations, Size, So, Some, Something, Sometimes, son, son Jesus Christ, speak, speaking, Spend, state, states, Stay, Sting, Strategies, Strong, stuff, Style, Success, Sufficient, Sure, System, take, Tate, Temporary, Than, the, Them, These, They, Thin, thing, Things, this, Through, Time, Times, to, Tough, tough situations, trial, Trials, Tribulations, True, Truth, US, Very, Victor, Vision, Want, Wants, way, ways, Weak, weakness, weather, Week, weekend, Willing, Won't, Work, Works, world, worth, ye, Year, yo, You've, Yours