Join with us in believing God for More!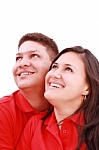 The Lord is supernaturally moving in the earth realm both day and night, He is looking for those who have faith in Him and His abilities to provide. God is looking for those that will believe Him for more in 2013! Are you one of the ones that God could be looking at and looking for in 2013 to believe Him for more? Or should He look for another? God wants you to believe Him for more in 2013! Believe for more of what you might be wondering? More miracles, more healings, more finances, more meaningful times with our spouses, more memorable times with our children, more valuable friendships, more understanding of God's Word, more time for ourselves, more finances, more opportunities and more of whatever it is you need from the Lord! God wants you to be open to the more that He wants to give you!
God wants us to ask Him for more, because more is what He wants you to have. And not just for you—He wants more for your family! That's what it says in Psalm 115:14, "The Lord shall increase you more and more, you and your children." But we see in this next verse that we are sharing with you that in order to get more from God, we need to ask God for more! Matthew 7:11 states, "If you, then, though you are evil, know how to give good gifts to your children, how much more will your Father in Heaven give good gifts to those who ask Him!" God wants to give you better gifts, more gifts than you could ever give your own children, your spouse or your family or friends that you love so much. And He says He'll give more to the ones who ask Him in His perfect timing! It helps to understand just what more means! It means: that which exceeds or surpasses in any way what it is compared with; greater; superior; increased in quantity, degree, and quality. So when it comes to your marriage, God wants to do more in your marriage! He wants every aspect of your relationship with your spouse to be greater, superior, increased in degree and quality. Maybe it's greater amounts of time together you want more of, maybe it's an increase in the quality of your communication you want more of, or maybe it's more intimacy you want more of! (Then again, if you have little kids, maybe it's superior sleep you want more of!)
God does want and is able to give you more! How about more in your relationships with your children? Do you have need of more wisdom to know how to train your 2-year-old, or to channel your 8-year-old son's energy, or how to help your preteen daughter through her hormonal challenges, or how to teach your teenage son to be more responsible? Has God already come through for you in the past? Did He give you the wisdom you needed then / Well, He wants to do it again and He wants to give you more wisdom that exceeds or surpasses the wisdom He gave you before! What about more in the areas of finances? Do you need more in the area of your finances? If so, God wants to do more than enough in your finances! Psalm 37:18-19 says, "Day by day the Lord takes care of the innocent…They will survive through hard times; even in famine they will have MORE than enough.
"If you want more from God in your finances, allow Him to instruct you on what it is He requires you to do in order for you to get more in your finances. Simply ask Him to instruct you and then give Him time to respond. And when it comes to miracles (things that only God can do!), God wants to do more! He wants to do miracles that exceed or surpass in any way what He did the last time-miracles that are greater, superior, increased in quantity, degree and quality. The Psalmist David said in Psalm 90:16, "Let us see your miracles again; let our children see your glory at work." Is that what you want for yourself this year, your spouse, your family, your children and your friends in 2013? If you are the one that God could be looking at and looking for as a potential recipient to receive more in 2013, then believe God for more in 2013! We are!
Do you want to join with us and believe God for more? If you do, join us in this simple prayer;
Holy Father, creator of Heaven and Earth, as you sovereignly move in and through the Earth realm seeking out those who will dare you to believe you for more, it is my prayer that you will count me worthy of receiving more from your hand. I do believe and want the more father God that you may have available to me.  I want more in my finances, more in my relationships, more of your presence, your power, your healing, your guidance, more love in my life and more of anything that you may want to give me father. For I know that every good and perfect gift comes from you and I am open to receiving the more that you may have in store for me. Father I honestly want and desire more. Father I pray that you will forgive me of any sin known and unknown in my life, blot out any and all transgressions that may have haunted me or that may exist in my life. Make me a clean vessel worthy of your presence. I surrender my life to you Father God and ask you to give me the more that you have available to me because I am your child, in Jesus name; I ask and pray – Amen
Want to do something different as you wait on God for more? Use the below free resource to sign up!
Once you sign up, choose the option under the list of what Cozi does that says family journal and once you sign up for free, begin to record in your online journal the "more" that begins to show up in your life that is a direct result of God's more in your life! Enjoy!