What to do When You're Tired In Every Area Of YOUR Life!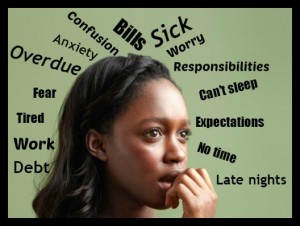 Dear Wisdom Of God With Wendy blog reader, we know beyond a shadow of a doubt that the article listed below is meant to minister to some 1 that God needs to reach with the message shown below. We had to try for almost an hour to put this post on because the computer kept locking up, the screen would not move, and we could not get the content on the page, additionally when we went to another browser the exact same thing happened. We then attempted to put this information in a word document to save to put on this page and the same thing happened, the document froze up and disappeared, but all Glory to God, the contents of the documents were saved finally and we were able to get this information to you on this page. The devil is busy, he does not want you to know that what you are going through is normal, your case is not isolated, almost every 1, everywhere is tired of something, disappointed by something, fed up with something, sick, or searching for answers. You are not alone, God is with you, He is working. He has a plan for your life which is good, Jeremiah 29:11 states, "For I know the plans that I have for you saith the Lord, "Plans to prosper you and not harm you", Plans to give you a hope and a future".  Read the article below in it's entirety, and be blessed, Let God minister to you and pour His healing salve where it hurts. You'll be so glad you did!
I'm tired.
I'm tired of being responsible for everything in our home. Making the money. Paying the bills. Balancing the checkbook. Making all of the decisions. Doing all of the grocery shopping. Planning all the meals. It's exhausting to carry the burden alone, to have no one else to help determine the best course of action.
I'm tired of bearing the entire burden of raising children. We have had so many doctor's appointments lately. We've had stress and drama. We have raging hormones. We have had countless late night talks that go way beyond my bedtime, followed by early morning appointments that fit best with my work schedule (but not my workout schedule).
I'm tired of being a chauffeur. With three kids, ages 10-15, we have activities and friends. It seems that there's rarely an evening that allows me to come home and just enjoy a quiet evening at home. My oldest now has his driver's permit, but it still requires me to go along.
I'm tired of being tired. Between work and kids and my other responsibilities, I simply never feel truly rested. My exercise routine has dropped off which just makes my energy level that much lower. But, I can't seem to find a way to add more exercise, to keep things going. If I ever sit down in the evening, my kids start making bets on how long it will take me to fall asleep.
I'm tired of juggling. It seems I have so many balls in the air that I often feel like I'm going to let something fall. I recently woke up with the horrible realization that I had missed my daughter's parent-teacher conference. Yep. I totally flubbed that one. Major parenting fail.
I'm tired of unanswered prayers. It seems like forever since I've seen God pour out a resounding "YES!!" to my prayers. I have so many requests hanging out there. I keep thinking there has to be breakthrough somewhere.
I'm tired of waiting. Oh, the beautiful promises he has given me! But, when? Haven't I waited long enough? Hasn't he done enough work in me to fulfill some of those promises…NOW?
I'm tired of silence. Oh, don't get me wrong. There are days I would love nothing more than a few minutes of silence. But, I'm talking about God's silence. I would give anything to hear his sweet whisper, just something to get me through the day. It seems that it has been a while.
I'm tired of this season. How many times have I told others to remember that it is just a season? But why does it have to be such a long season for me? Why can't God see fit to bring this season to an end? Can't he see that I have done my best to be faithful, even through the hardest times in my life? Can't he see the growth? Can't he see that my heart is fully his, that he is officially my greatest desire? Can't he fulfill my longing to share this life with someone?
I'm tired.
But I will not quit.
My kids are more than worth it. I pray that one day they will look back and see how hard I have worked to provide for them, to keep everything going. I pray that one day they will appreciate my sacrifices. I pray that one day they will tell their spouses, their kids about the wonderful childhood they had despite the less than perfect circumstances.
I know that the future God has for me will far outweigh the pain, the frustration, the hurt. He says he will repay every pain with two blessings (Zechariah 9:12). I've seen many, many blessings, and I (normally) recognize that the joys and blessings officially outweigh the pain. I know that my past was ordinary, but my future will be extraordinary (Job 8:7). I know that he is planting the seeds to fulfill my dreams, dreams that have been in my mind for more than 20 years.
I know that even in God's silence, he is not still. He is working. He is preparing hearts, preparing opportunities. He is moving Heaven and earth to accomplish his purposes for me, for my life.
I know that he will sustain me. He tells us not to grow tired of doing what is good because we will reap a harvest of blessing at just the right time if we don't give up (Galatians 6:9).
He is the God who sees. He is the God who hears. He is the God who is always faithful to keep his promises. He is the God who has great plans for me.
He is my sustainer, my redeemer, my restoration. He is my strength. He is the one I live for.
Have you never heard? Have you never understood? The Lord is the everlasting God, the Creator of all the earth. He never grows weak or weary. No one can measure the depths of his understanding. He gives power to the weak and strength to the powerless. Even youths will become weak and tired, and young men will fall in exhaustion. But those who trust in the Lord will find new strength. They will soar high on wings like eagles. They will run and not grow weary. They will walk and not faint. Isaiah 40:28-31
******
In the days since I wrote this post, God has been so good! He has been constantly reminding me that He is my strength, my hope. He has faithfully reminded me that his yoke is easy and his burden is light.
Here's the lesson: We all have our days, our moments, when we get down,frustrated, tired of being patient. It's OK! God understands our frustrations, our weaknesses. He understands our human emotions that sometimes cause us to lose our footing. As long as we run to Him in those times, he will faithfully carry us through. Are you tired like me? Turn to the one who is our strength!
_______, 2015, 2016, able, About, Ache, Action, addition, ages, Aging, air, Alan, Allow, ally, almost, alone, along, Always, AMP, Another, Answer, Answered, Answers, Anti, Anything, Appear, appointment, Appointments, area, article, Arts, Attempt, Aug, Austin, Back, Balancing, ball, Bear, beautiful, Because, Become, bed, been, Being, Best, between, beyond, bible, Bible verse, Bible verses, Bibles, Bill, bills, Bless, Blessed, Blessing, blessings, Blog, Blogs, Book, Break, Breakthrough, Bring, browser, burden, Busy, can, Carr, carry, Case, Cause, Center, Char, Check, Child, Childhood, children, Chris, christ, christian, Christian Quotes, Circumstances, class, Come, computer, conference, content, Could, count, Course, Creator, cross, daughter, Day, Days, Decision, Decisions, desire, despite, Determine, Devi, devil, Doctor, Doing, Don, Done, Doubt, Down, Dream, Dreams, Driver, drop, Dropped, duct, Each, Eagle, early, Ears, earth, Easy, Eight, Else, emotions, end, ends, Energy, Enjoy, Enough, enter, even, evening, Ever, Every, Everything, Evil, Exercise, Extra, Extraordinary, fail, fait, faith, Faithful, Fall, family, feel, File, Files, Final, Finally, Find, Follow, Foot, Form, formation, FREE, Friend, friends, Frustrated, frustration, frustrations, Fulfill, full, Fullness, Fully, Future, Give, Given, gives, Glad, glory, god, going, Good, great, Greatest, grocery, Grow, Growing, grows, Growth, Hanging, Happen, happened, hard, Hardest, harm, Harvest, have, Heal, healing, Hear, hears, heart, hearts, Heaven, height=, Help, Here, High, Home, Hope, Hour, HR, Human, hurt, Hurts, I'm, image, in, inform, information, inspiration, inspirational, Isaiah, It's, James, Jeremiah, jesus, job, john, Johns, Johnson, joy, just, Keep, Kept, Kids, king, Know, last, Lasting, Late, Left, Less, Lesson, Let God, level, life, Light, Like, list, Live, Loads, lock, Lone, Long, Longing, Look, Lord, Lose, love, Lower, Lynn, Major, Makes, Making, man, Many, Meal, meals, Mean, Meant, measure, mess, MESSAGE, Mind, Mini, Minutes, Miss, Missed, moment, moments, Money, More, morning, Most, motion, move, Much, N., Need, needs, Never, New, Night, NIV, norm, Normal, Nothing, official, Often, OK, Ones, Only, opportunities, Ordinary, out, page, pain, Parent, Parenting, past, Path, pay, Perfect, perfect circumstances, permit, picture, Pictures, Plan, Planning, plans, plant, point, pointe, Port, pose, poses, post, pour, Power, powerless, Pray, prayer, Prayers, preparing, Press, product, Production, prom, promise, promises, Prosper, Provide, Purpose, purposes, Push, Quests, Quiet, Quit, quotes, R., RAGING, raising, Rama, Rare, Reach, Read, Real, Realization, Recognize, Rely, Remember, remind, request, Requests, responsibilities, Responsible, rest, restoration, RESULT, right, right time, ring, River, Routine, same, Sapp, Save, Saved, says, schedule, screen, search, Searching, Season, Seed, seeds, seem, seems, seen, sees, Share, shop, shopping, Show, sick, Silence, sin, Sing, Sleep, So, Some, Someone, Something, Sometimes, son, sound, Spira, spite, spouse, spouses, src=, stand, standing, stands, STAR, Start, state, states, Still, Sting, Strength, Stress, Strong, study, such, Sure, Sweet, take, Talk, Talking, Talks, tall, Tate, Teach, Tell, Tells, Tempt, Term, Test, Than, the, their, Them, There, They, thing, Things, think, Thinking, this, Those, Three, Through, Ties, Time, Times, Tine, tired, to, told, Tool, tools, total, totally, truly, Trust, Turn, Tween, Unanswered, Unanswered Prayers, Under, Understand, understanding, Understands, US, Uses, Verse, Verses, Very, wait, Waiting, Walk, Want, way, ways, Weak, weakness, wear, Wendy, Were, whisper, wings, wisdom, Wonder, Wonderful, word, WordPress, Work, Working, Workout, worth, Would, Wrong, ye, Year, Years, YES, yo, You'll, Young, Youth