Allow God to change your disappointments to victory!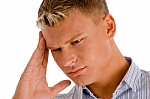 Life has a funny way of taking you down some long and winding roads that can really perplex you and make you wonder just what is going on. What you thought was going to happen sometimes doesn't and what you want to happen often seems to be taking a long time. Disappointment comes in every shape and form and to every one at some point and time, it is one of the tricks of the devil. If the devil can get you depressed, he can affect every area of your life. He can affect your physical body. He can affect your ability to be a witness to that neighbor or to that person on the job. He can even affect your ability to pray for somebody else's healing. The devil wants to destroy you. He wants to destroy the church and he wants to destroy your ministry. He is the destroyer, but many times his destruction and total devastation of your life begins with the subtleness of disappointment. Remember the time when the Hebrews sent the 12 spies out into the Promised Land? When the spies came back, two of the spies, Joshua and Caleb, had a good report. They said, "Hey, we can do what God says. We can go into the Promised Land. We can conquer. Let's go."
Ten of the spies came back with a bad report. They said, "Look, there are giants in the land. The land looks pretty good, but there are giants in there. We are like grasshoppers to them. They're going to stomp us. There is no way we can go in there and take the land." The people were wanting a good report but they didn't get one.
Everyone Wants a Good Report
Have you ever gone to a doctor and you wanted a good report? Have you ever applied for a loan for a house and you wanted a good report from the finance officer? Have you ever asked somebody out on a date and you wanted a good report? Were you waiting for a yes, and the report returned with a no? Everyone wants a good report. How did the Hebrews react when they heard the bad report about the giants? At first, we guarantee you, they were just a little disappointed. They wanted a good report. At that point they could have taken that small disappointment and turned it around and spoken faith and moved right on in to the Promised Land. They could have said, "That report disappoints me, but I am not going to listen to that report. I'm going to listen to what God said instead of what they said. I will not be disappointed." Look at what the scripture says in Romans 5:5;
"Hope does not disappoint." So if the people had hope when they heard the disappointing report, they could have said, "Wait a minute. I have hope. Hope doesn't disappoint. I am not disappointed. Yes, they gave a bad report and it took me back a little bit, but nevertheless, I've got hope. Let's go into the Promised Land!"Then they could have gone in. But, they tried to handle the disappointment themselves.
A Downward Cycle
How do you handle disappointment yourself? Usually you may sit down and talk it out. The scripture says that's what they did. They went back to their tents and they talked. Then no longer was there just disappointment. It developed into discouragement. The more they talked, the more discouraged they became. The scripture says the more they got discouraged, the more they grumbled. They grumbled and they murmured and the scripture says that God got angry because of their words. Every one of the people who grumbled and complained about the disappointing news they heard died in the wilderness. Not a single one of them went into the Promised Land. If you allow disappointment to fester and develop into discouragement and then speak the discouragement, it displeases God.
You will not receive the rewards God has for you in His promises grumbling and entertaining a bad report. What awaits you is destruction. That's just what the devil wants. But when a disappointment comes along, it may seem like a little thing, like not being able to find your keys. We think we can handle something like that. We need to take every single disappointment in life, no matter how small or how big it is, and turn right around and put the Word of God on it. Don't let disappointment develop into discouragement. Instead go to the throne of grace and receive grace from the Father to turn your disappointment into joy and victory. Go to God and tell Him of your fears,how your disappointments may have hurt you and how it's made you feel, let God pour His healing balm on you so that you can be revived enough to go on and accomplish all that God has in store for you!
Child of God, don't let disappointment find you and put a hook in your jaw so tight that you can't break free from it, trust God and let Him turn what has disappointed you into some of the greatest victories of your life! Why keep clinging to any disappointment that may have shown up in your life by force? Join us in letting go and letting God! Give your disappointment to God and see what He can and will do for you! Are you ready? He is if you are! So let go and let God!
If you want to invite God into any situations that have disappointed you to turn your disappointment to victory, join us in this simple prayer;
Dear Lord, Thank you for the opportunity in which I am approaching you in prayer again. The burdens and stresses of yesterday have kept me from enjoying the new phase of today that you want for me. I have suffered setbacks, heartaches, disappointments, loss and disgusts. Heavenly Father in your great mercy and love for me, have mercy upon me because of your gentle nature and kind Spirit. You are a loving and kind God that delights in turning the impossible to the possible. I lift my eyes up to you as well as what has disappointed me father God and surrender it into your all powerful and capable hands asking you to turn my disappointments to victory in your right divine timing. I'm willing to wait on you Father for the victory that you are capable of giving me at just the right time. In Jesus's name I ask and pray this. -Amen!
_______, ability, able, About, Ache, Affect, Again, aged, Allow, Allow God, ally, along, AMEN, angry, Anti, appointment, Appointments, Approach, Approaching, area, around, asked, Asking, Back, backs, bad report, Became, Because, Begin, Begins, Being, bit, Body, Break, burden, Burdens, But , Came, can, Capable, Cause, Child, church, Cling, Come, comes, Conquer, Could, Courage, Cycle, Date, Day, delight, depressed, Destroy, Destruction, Develop, Developed, Devi, devil, didn't, Died, disappointing news, disappointing report, disappointment, disappointments, Divine, divine timing, Doctor, Doesn't, Don, Don't, Down, Downward, Downward Cycle, Ears, Ease, Else, Else's, end, Enjoy, Enjoying, Enough, enter, even, Ever, Every, everyone, Evil, eyes, fait, faith, Father, Father God, Fear, Fears, feel, Finance, finance officer, Find, First, Force, Form, FREE, from, Funny, funny way, Gain, Gave, gentle nature, giant, giants, Give, giving, god, going, gone, Good, good report, Got, Grace, great, Greatest, Grumbling, guarantee, hand, Handle, Hands, Hank, Happen, have, Heal, healing, Hear, heart, heartache, heartaches, Heaven, heavenly, Heavenly Father, Hebrew, hebrews, Hebrews react, Here, Hope, house, HR, hurt, I've, impossible, in, in Jesus, Into, Invite, It's, jaw, jesus, job, Join, Josh, joshua, joy, just, Keep, Kept, key, Keys, kind, kind God, king, Land, Less, Let God, Let's, letting, life, lift, Light, lights, Like, list, Listen, Little, Long, long time, longer, Look, Looks, Lord, Loss, love, Loving, Made, man, mans, Many, matter, Member, Mercy, Mini, Ministry, More, move, N., Name, Nature, Need, Never, New, new phase, News, Office, officer, Often, OK, opportunity, out, PEO, people, Person, Phase, physical, physical body, plea, pleas, Please, point, pointe, Port, possible, pour, Power, Powerful, Pray, prayer, Press, prom, promise, Promised, Promised Land, promises, R., Race, Rage, Read, READY, Real, Really, receive, Remember, render, Report, Return, returned, Revive, Revived, Reward, rewards, Rick, right, right divine timing, right time, Road, Roman, Romans, Round, Said, Sapp, says, Scripture, seem, seems, Self, Selves, Sent, setback, setbacks, shape, shop, Show, Simple, simple prayer, sin, Sing, SINGLE, single disappointment, situation, situations, Skin, Small, small disappointment, So, Some, Somebody, Something, Sometimes, son, speak, spies, Spirit, Spoke, spoken, Station, Stor, store, Stress, Strong, Suffer, surrender, take, Taken, Taking, Talk, Tell, Test, Than, Thank, That's, the, their, Them, Themselves, There, They, Thin, thing, think, this, Thou, though, thought, throne, Time, Times, times his destruction, timing, to, Today, took, tore, Tories, total, total devastation, Trick, tricks, Tried, Trust, Trust God, Turn, Turned, Turning, Unity, Upon, US, Usual, Very, Victor, Victories, victory, Vine, wait, Waiting, waits, Want, wanted, Wants, way, Well, Were, Wilderness, Willing, winding roads, Wonder, word, words, ye, YES, yo, you., Yours, Yourself